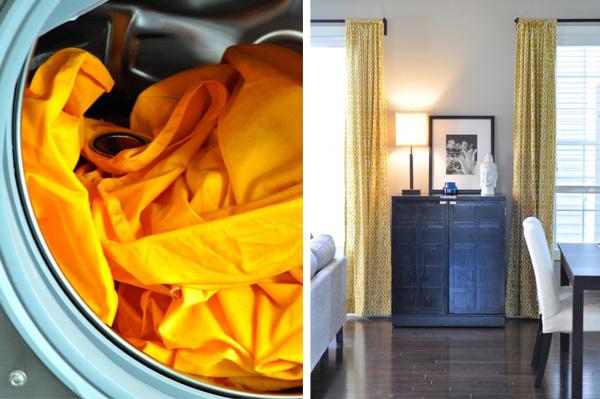 Hey all! It's been a busy week in other parts of my life. But wanted to share a couple quick things with you today. Do you remember my DIY iDye curtain fail? Well, it's featured on SheKnows.com today along with a few other fails by bloggers including my sweet friend Amber from Wills Casa. I love the idea of sharing fails and when Sherri, the writer, was looking for a good fail, I knew I had one to share. Along with another 50 or so, but let's start with one. Two other things…
I am disappointed to have to share an update on the Porch.com/Hayneedle offer too. Porch.com informed me yesterday that the offer is $50 off your purchase of $350 or more. I'm not sure if the $350 minimum purchase was intentionally left out of all communication with them or not, but it was never mentioned to me and I even sent them several emails confirming the language etc… It started off as a "$50 gift card" in their communication and the day of launch was switched to "$50 off your purchase" with no mention of any minimum purchase. And if you know me, you know that $350 is a big deal! $75? Understandable. I apologize to anyone who will find this disappointing and I do feel like I was misled and then misled you a bit. Very sorry for this and lesson learned on my part. I expressed my frustration to Porch.com representatives.
And last, but not least, while I shared my interview on Sugar Studios about being a work at home mom, I never shared it here. Stop by to read all about it. I was a bit honest, to say the least.
On misconceptions of work at home moms…
This has been the hardest thing for me. I think there are many and it was a bit unexpected for me. I've found that so many people think you don't actually work. It's so funny because I literally don't know if I've ever worked harder at something in my life, only now, it's doing work I love 99.9% of the time. I do love it, but it's hard work and it can be emotional since it's my business and it's me and my brand. I don't think that a man who quit his job to start his own business with great success would be told 'So I heard you're not working anymore.' I'm just a bit sensitive about this particular misconception lately…
Thanks for stopping by! I'll be back tomorrow with a fun recipe post and can't wait to share a DIY project with you next week.